A Picnic in the Park
to Bring an Entire
Community Together
Parks & People Foundation Picnic in the Park
Services
Events
Brand development
Concept development
Collateral
Creative direction
Digital design
Environmental design
Vendor management
Establishing an event's identity that inspires members to support the active development of new Baltimore parks and programming for communities who use them.
Background
The Biggest Fundraiser of the Year
The Parks & People Foundation holds an annual fundraiser to gain support and money for park clean-up, restoration and development, and community activation in Baltimore City. It's the nonprofit's largest fundraiser of the year, welcoming over 500 decision makers, change makers, and tastemakers within the community. The outdoor event is held on their newly renovated park headquarters with local cuisine and live music.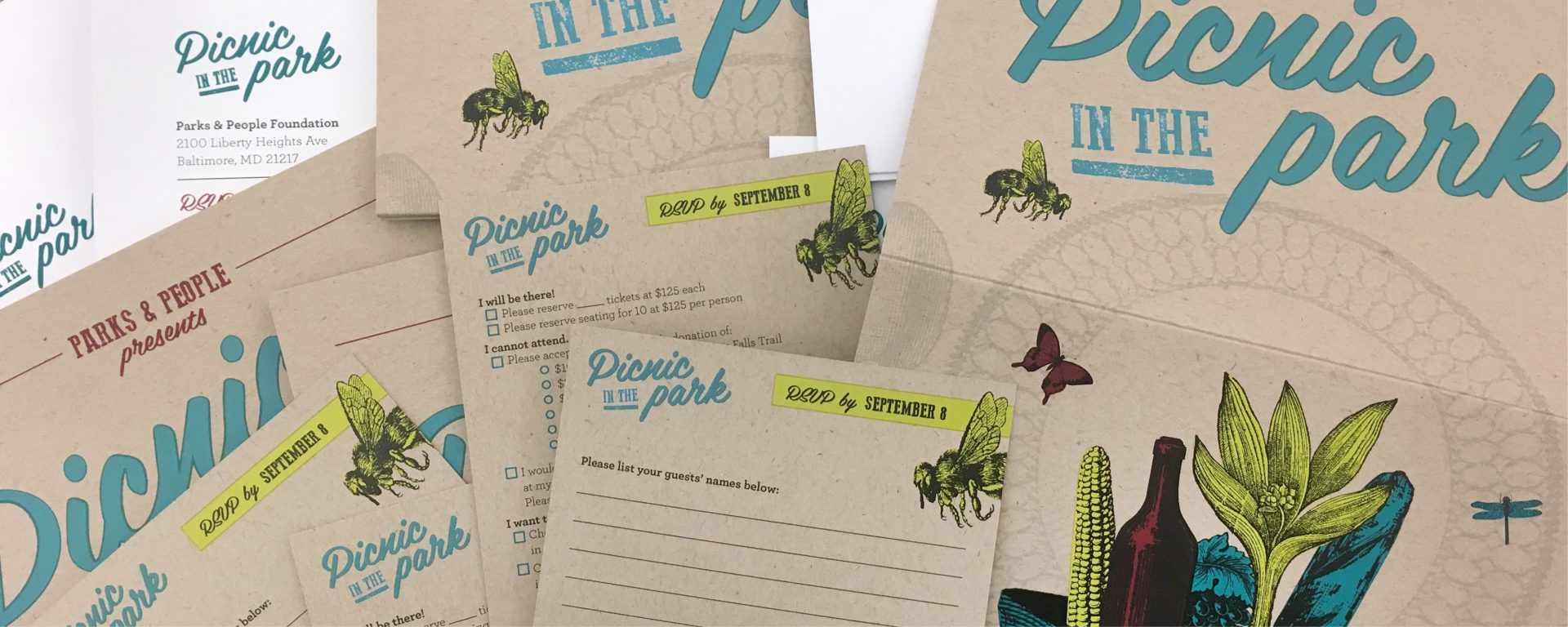 Challenge
Establishing an Event Brand
Because of our close relationship and experience with nonprofit brand strategy, we were chosen to help create the event's identity—one that would extend to a very diverse crowd and attract sponsors, major donors, and new donor bases previously unfamiliar with the Foundation. This identity would need to bring the community together for an important cause while enjoying an evening of awareness and new commitments.
Solution
Classic Inspiration for a Modern Event's Identity
The final event branding encompassed an authentic picnic and farmer's market look and feel. Our team created a series of elements for promotion, implementation, and future use for fundraising events in years to come; the longevity of the design allows "Picnic in the Park" to remain recognizable throughout the community. Woodcut engravings and illustrations help established the old school, authentic charm of an actual outdoor picnic. We also used brighter colors as emphasis to create a fresher, more modern feel for the younger audience Parks & People wanted to attract.
Results
An Adaptable Campaign
The campaign elements proved to be versatile and successful. The robust and integrated sponsorship strategy caused the 2016 event to sell out in record time. 2017's event plans to be even more successful, including a mix of existing lockups with new elements, like the hashtag #ParksUniteUs and new colors and updated illustrations. Parks & People has already exceeded the total sponsorship dollars from last year and they're expected to double the number of attendees.