An Integrated
Campaign for a Trusted
Health Provider
MedStar PromptCare Interactive Campaign
Services
Awareness campaign
Social media
Display ads
Native ads
Radio spots
Direct mail
Copywriting
Website development
Steering patients toward the most effective way to get their orthopaedic injuries seen and treated on the spot by a top medical specialist
Background
Not Your Average Urgent Care Center
MedStar PromptCare is an urgent care center that offers patients something its competitors don't – the ability to be seen and treated by orthopaedic specialists at the same location, on the same day. MedStar knew they had a clear advantage over the competition, and they wanted to make sure that everyone else knew too.

Challenge
Competing with the ER and the internet
Think about it. You fall and twist your ankle. It could be broken. Could just be a sprain. What do you do? Hop on the internet and self-diagnose? Wait in a crowded ER for a physician to refer you to a specialist? Or walk right into a leading orthopaedic facility and be seen by a specialist right on the spot? MedStar PromptCare needed a well-executed awareness campaign to get the word out that there's a much better option to Googling your injuries – and that same-day orthopaedic care is available right in your backyard.

Solution
A Highly Personal, Interactive Approach
To take on the WebMDs of the world head-on, we created an interactive campaign, "Searching for the Right Answer." It incorporated images and animation that resembled the act of typing symptoms into a search bar. This was shown throughout multiple channels: social media, display ads, native ads, Pandora radio spots and direct mail. The campaign's call-to-action led users to a custom landing page that reinforced the benefits of a PromptCare visit – speed, expertise and patient-centered service. The concept was highly personal, allowing us to create specific messaging for several specific target markets.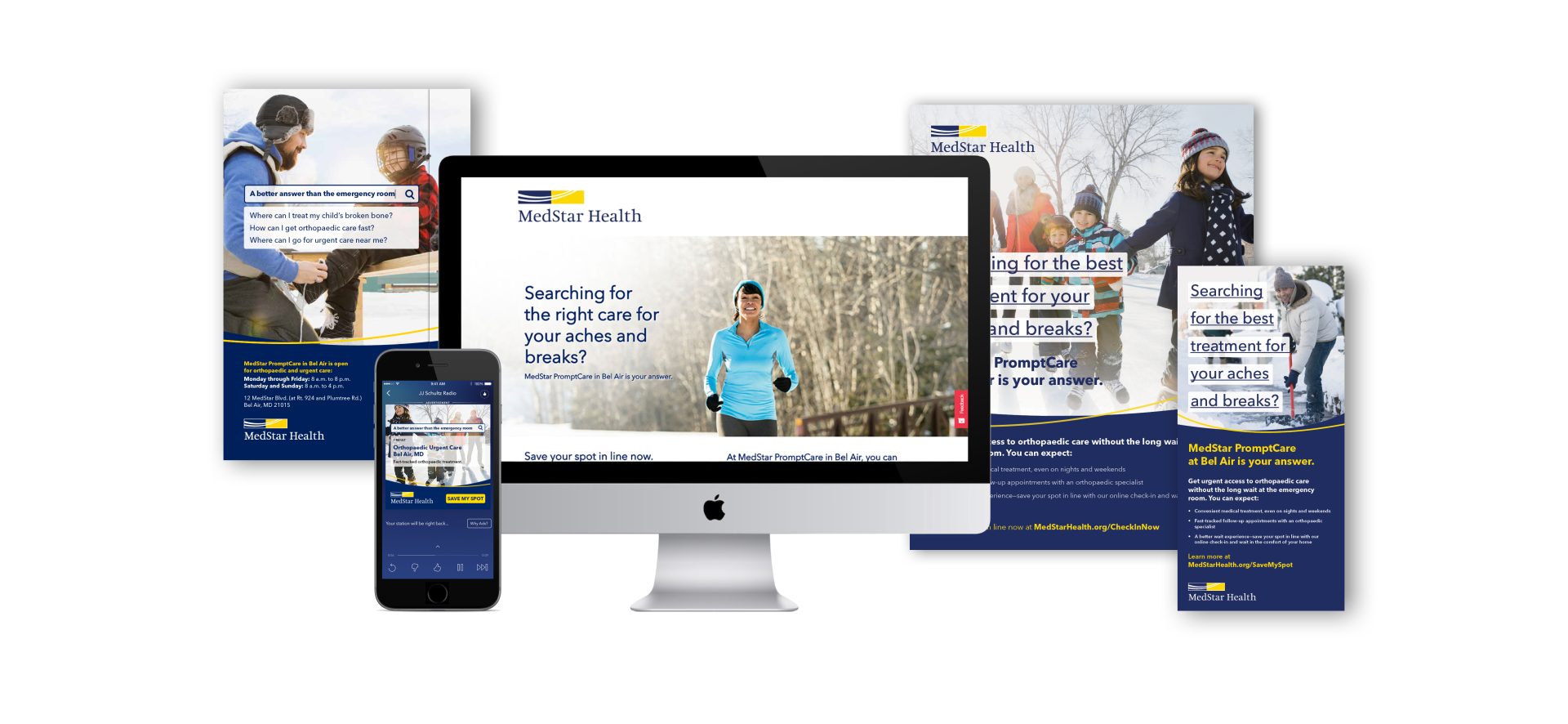 Results
Elevated Facility Awareness
Make no bones about it (see what we did there?), the campaign was a success – generating a substantial increase in overall awareness of MedStar PromptCare and its orthopaedic specialists. With an increase in traffic to both their website and their facility, MedStar PromptCare is fast becoming the go-to center for orthopaedic patients who are "Searching for the Right Answer."