A New Website
for a Baltimore School
with a Big Mission
Cristo Rey Jesuit High School
Services
Discovery & Immersion

User Research (Interviews & Surveys)

Content Strategy

Site Mapping

Web Design

Development
Background
Where Learning Gets to Work
Cristo Rey Jesuit High School (CRJ) is a Catholic, co-educational, college-preparatory school that exists to transform lives by empowering students to succeed in college, work, and life. 
In partnership with the community, CRJ embraces 350 students from Baltimore City families of religious, racial, and ethnic diversity, providing them with a private, college-preparatory education that wouldn't otherwise be accessible to them and their families. 
Their hallmark is the Corporate Internship Program (CIP), which integrates four years of professional work into students' high school careers. Through partnerships with more than 100 area businesses and nonprofits, students earn a portion of their tuition while learning workplace skills and developing a powerful professional network in their city.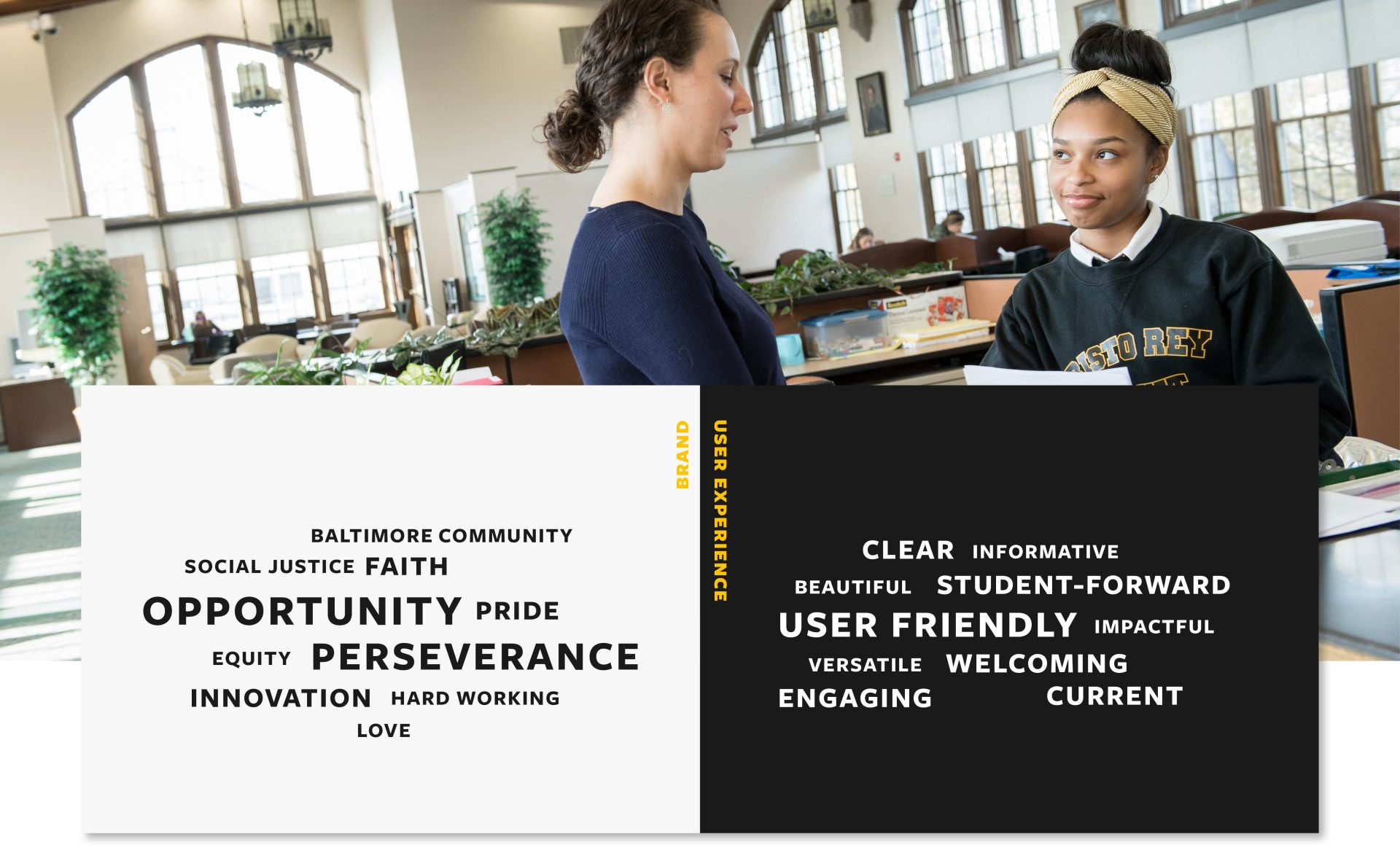 Challenge
What Makes a "Good" Website?
While their mission and impact are powerful, their existing website was sorely lacking as a platform for showing them off. Cristo Rey came to Orange Element in need of a website overhaul that would appeal to all of their audiences: current and prospective families, students, faculty, and community members, including CIP partners and donors. 
From the jump, we knew a handful of functional issues the redesign would need to address: student and parent portals should be seamlessly integrated, the college counseling site should be readily accessible, and the school calendar should have a prominent presence. It also needs to be easy for the CRJ team to manage internally.
But we also needed to rethink user experience problems. How do we create a site that's welcoming and appealing? That emphasizes the mission and allows for better connection and engagement with their audiences? That's simple to navigate and to understand? The answers to these kinds of questions are not one-size-fits-all.

Solution
A Website that Works (Almost) as Hard as Its Students
After a thorough audit of their current website structure, functionality, and content, our work towards a solution begins with more questions—lots of them. While we originally would have toured the school to immerse ourselves in the Cristo Rey culture, and sat down at a big table for in person Q&A discovery sessions, Spring 2020 and Covid-19 had other plans. So we conducted a slew of phone and video interviews, as well as surveys directed at CRJ's various target audiences, including staff and faculty, students, and parents in order to understand how the new site could best serve the school and their users.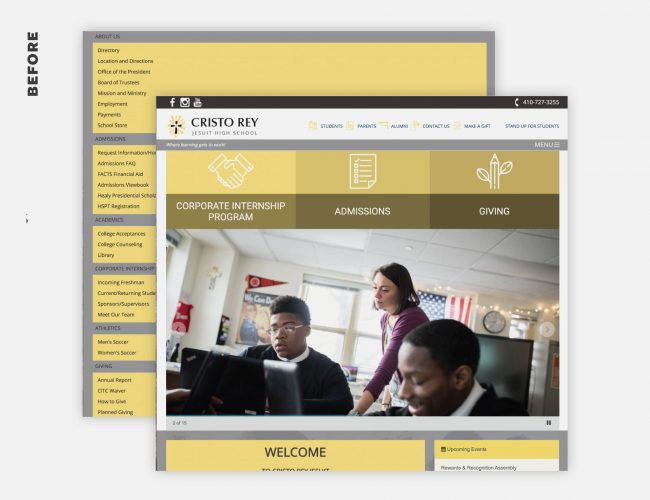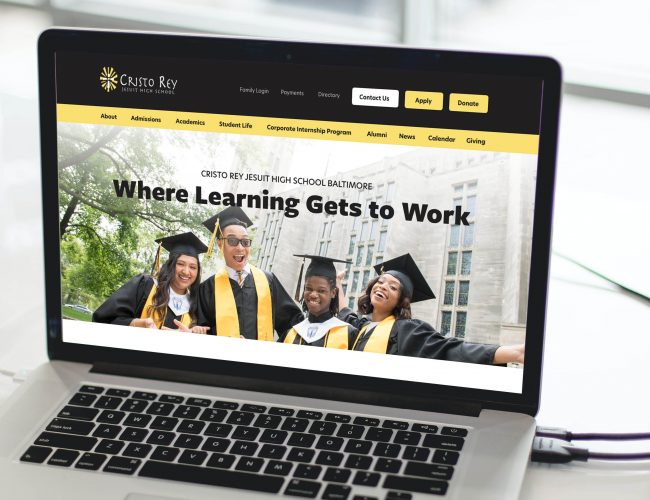 With the structure and function firmly in everyone's minds, we set to work building wireframes and finally high-fidelity design comps that brought to life the impactful mission and vibrant student life of Cristo Rey. Student highlights gained a prominent place on the homepage, and a new blog system allows for continual, easy updates; the restructured primary navigation simplifies the site and enables users to quickly access important content; academic and admissions details are at the ready; donors and community partners can learn about both the school and how to get involved with ease. 
We are thrilled to have had the chance to work with Baltimore's Cristo Rey Jesuit High School, and to have helped bring their mission to life through a new website.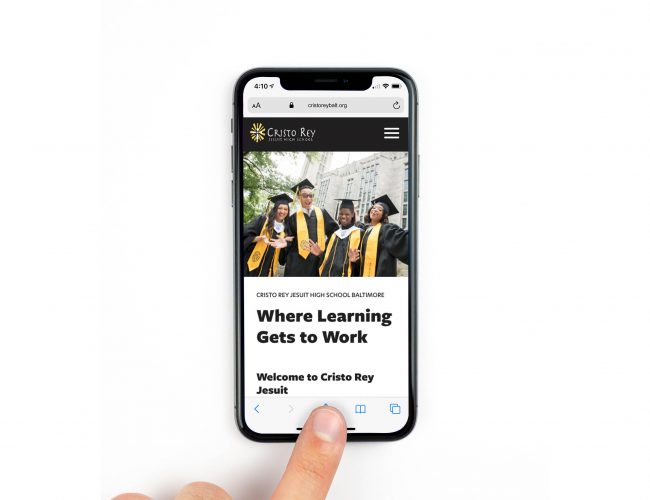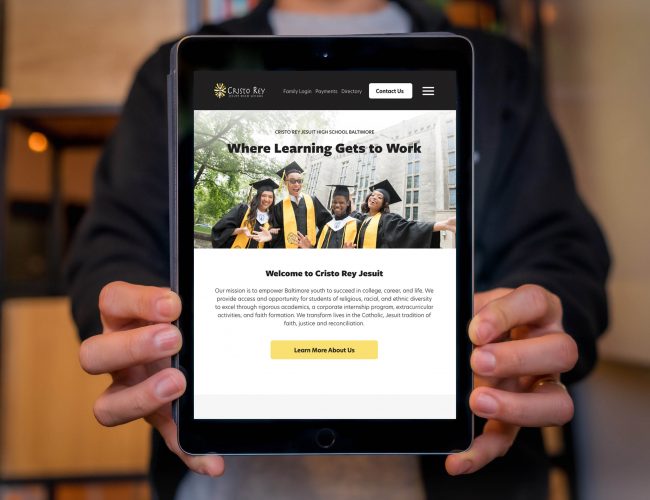 Cristo Rey Jesuit High School engaged Orange Element in early 2020 to help us revamp our website. We sought to make it more user-friendly to students, families, faculty and visitors, and also wanted to make it a more welcoming place to be and help us share and celebrate our mission. Shortly after we began the work on the site, Covid hit, moving all of the website work to a virtual format with the Orange Element and Cristo Rey teams. What could have been a setback, was not. We continued working closely with the talented team at Orange Element through their thoughtful process to deliver a beautiful website on our original target date. In the midst of working with OE on our new website, we also enlisted their team to help us pull off a virtual event with less than 3 months to plan and build the framework. Once again, Orange Element delivered to ensure our virtual event was a success for the school. I'd be pleased, excited and assured to work with them again in the future.