Building a Brand

at the Ground

Level (Literally)
AES Energy
Services
Wayfinding & Office Signage
Environmental Graphics
Interior Branding
Digital Displays
Printed Collateral
Fabrication Management
Vendor Management
Event Materials
Background
Big Move, Blank Slate
AES is "a global power company that owns and operates a diverse and growing portfolio of electricity generation and distribution businesses, which provide reliable, affordable energy to customers in 18 countries." When they moved into a brand new office space in 2014, they brought Orange Element in to concept, design, and execute an environmental branding program.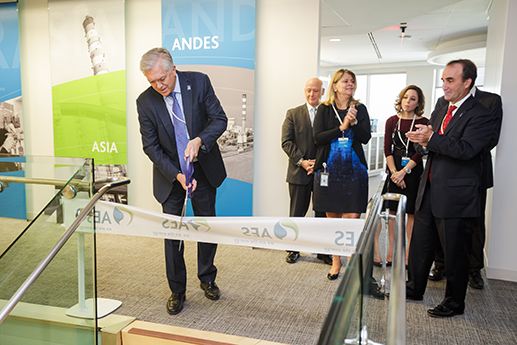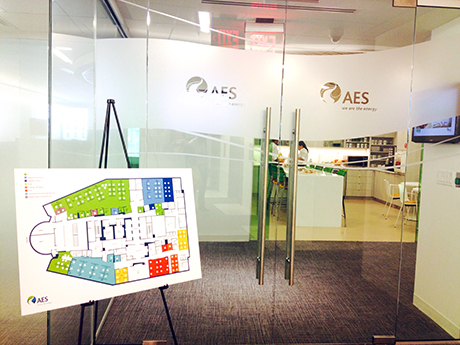 Challenge
Seamless Translation
We entered the process when the physical design and layout of the space were already complete. As a result, our challenge was to apply strategic brand thinking to available space, with a goal of marrying the architectural decisions to AES brand values. In the end, our work had to satisfy the client's goal of creating a seamless, engaging, modern working environment.

Solution
A Narrative Through Space
We worked collaboratively with both AES and their architecture team to survey the existing space and identify opportunities for developing branded space. Once the survey was complete, we identified an opportunity to develop "brand panels" — storytelling panes that tie the physical space together while at the same time shedding light on AES' values, culture, and work. We further accented the brand panels with finer details such as signage, wayfinding, and frosted glass.
The design and development was completed in mid-2014 and has been serving the AES team well as they enter their second year in the new space.


Orange Element worked seamlessly with the AES project teams to develop an environmental branding system spanning 3 floors of a new office buildout. By integrating identity design with brand storytelling, we created an environment that allows visitors and employees alike to both experience and understand the AES brand.