You may remember my first blog about the Mid-Atlantic Marketing Summit where I reviewed some insights I learned at the conference in D.C. in April. This past Friday, the #MAMSummit was a little closer to home in Baltimore, featuring new speakers and organizations covering industries like food delivery, photo framing, restaurants, and more.
My approach this time was a bit different than the first; I chose to attend the presentations that would shed light on topics that were new to me instead of focusing my efforts on content in which I was well-versed, like SEO or LinkedIn. As a result, I learned about the storytelling power of virtual reality and how to get the most from YouTube—plus a few more insights that you should familiarize yourself with, too.
YouTube Power Tools: Getting the Most out of Your Investment in Video
Every marketer knows the power video has on any marketing strategy. Jon Barnes, the Director of Communications at ADG Creative, shared his YouTube experiences as he created videos about painting cars and playing guitar, eventually monetizing this content as he racked up more views. His biggest tip? "Break out your overall marketing or video budget into two parts: create one high-budget video with half that budget, and multiple smaller, iPhone quality videos with the rest."
Marketing with 3D and Virtual Reality: A View into the Future of Storytelling
Rich Daughtridge, Founder and CEO of HighRock, began his presentation by clarifying a common misconception about 3D and virtual reality: it's not just a gimmick or a game. In fact, this agency uses 3D visualization technology for high-profile clients like Sagamore Rye and Hatteras Yachts. Their renderings show products and spaces before they're even built—like Sagamore's Distillery or whiskey bottle and a 90-foot Hatteras yacht— so clients (yes, that includes Kevin Plank) can see it before buying. What does this mean for creative agencies like us? We can use these virtual reality assets to tell stories in multiple platforms, including social media, so everyday consumers (and not just those who can afford multimillion dollar boats) can explore spaces and products.
Building a Brand to Scale
This photo framing company needed to breathe new life into a large, outdated market. Susan Tynan, founder and CEO of Framebridge, shared her experiences attracting both new consumers to the framing industry and those who wish for a cheaper option. But instead of marketing their product's high-end quality and customer service, Framebridge used content marketing to tell their story and sell their products. "What are people framing with us?" Susan said. "Content marketing has the power to move people. That's how we promote Framebridge—telling their stories with content." Through email marketing and social media, the company shares what customers frame, from marathon bibs to concert tickets to travel posters to photos with Obama.
5 Trends for Digital Agencies and Brands
Eric Shutt, Director of Strategy at iStrategyLabs, reviewed his 5 predictions agencies should consider as we head into 2018 and beyond.
1. Convergence and consolidation. Organizations may begin consolidating their creative agencies, seeking those who have integrated data and in-house capabilities.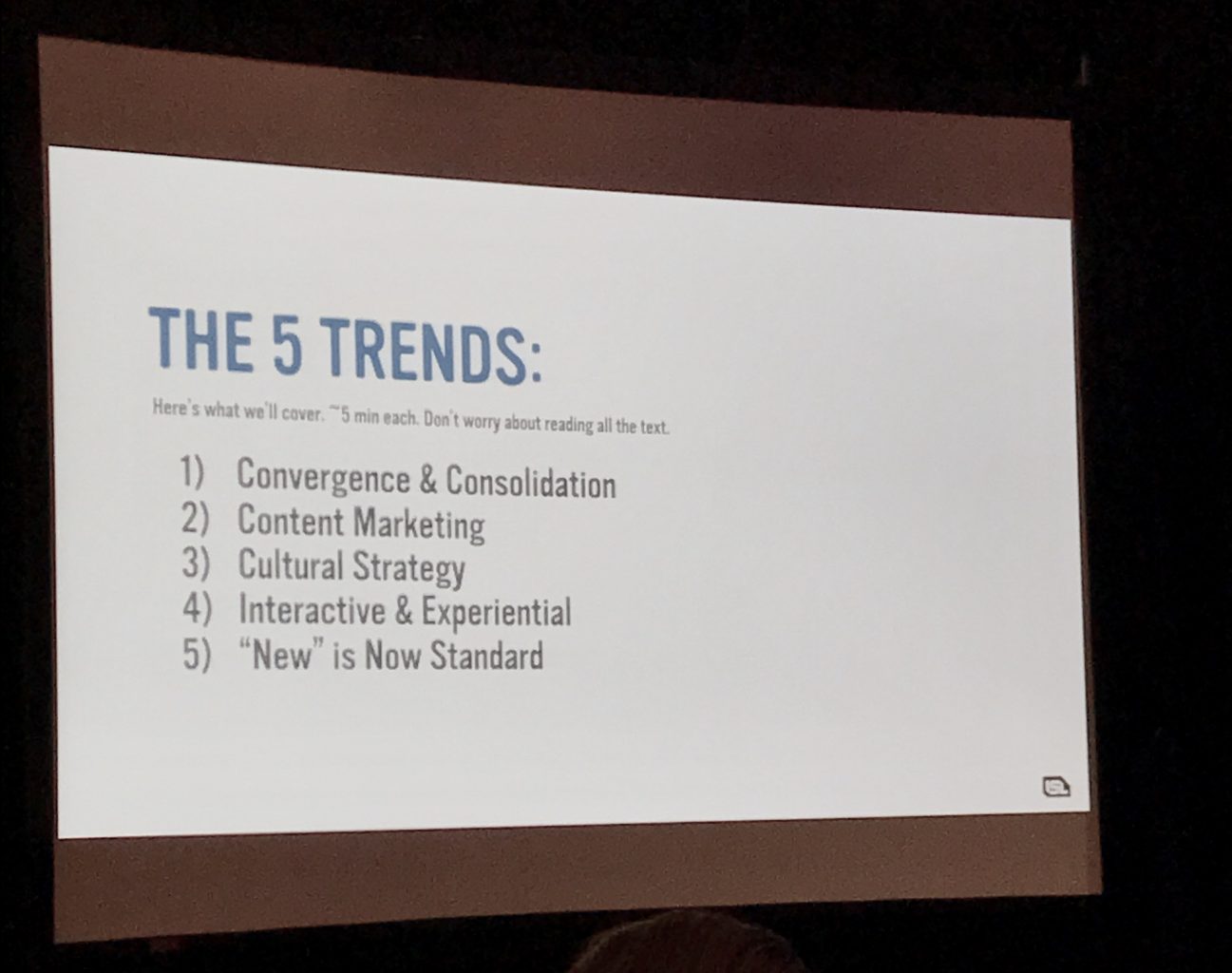 2. Content marketing. Consumers consume at least 10 hours of content a day, so it's more important to do few things with a big impact rather than churn out low-quality content constantly. Your brand should also consider influencers to amplify your message, but that doesn't mean it needs to be a blockbuster celebrity—consider using 10 to 20 influencers with 1,000 to 20k followers that fit the lifestyle you wish you convey.
3. Cultural strategy. Brands have an opportunity to connect their product and the cultural lifestyle of their audience. Cultural marketing speaks to personal identity, so brands must be careful to portray it in the right way: cultural appropriation that's inauthentic will fail.
4. Interactive and experimental. As mentioned in HighRock's presentation, traditional marketing tactics are now being integrated with digital and "physical" experiences to create interactive, 2-way engagement.
5. "New" is now standard. Today, consumers expect brands to offer sleek digital experiences. Marketing strategies should automatically consider a mobile-first approach and paid media to amplify their campaigns.
Did you attend the Mid-Atlantic Marketing Summit and have additional insight? Contact us today—we'd love to learn more.