Designing a Brand
Identity for a
Pediatric Hospital's
Centennial
Celebration
Mt. Washington Pediatric Hospital
Services
Centennial Branding
Event Branding
Event Signage
Program Book
Website Graphics
Sponsor Materials
Branding Mt. Washington Pediatric Hospital's 100th year and its culminating event to attract donors all year long
Background
Event Brand Identity
Mt. Washington Pediatric Hospital (MWPH) has treated children with chronic or complex needs since 1922, bringing comfort and healing to its patients and a cause for hope to their parents. Once a stately home upon a hill, MWPH now spans four locations and is a jointly owned affiliate of the University of Maryland Medical System (UMMS) and Johns Hopkins Medicine (JHM).
Challenge
Elevate a Signature Event
Anniversaries lend themselves to exceptional opportunities for organizations to connect with the community around them, both to build awareness and to generate support. For an organization like MWPH that is partially dependent on individual and corporate donors, a significant milestone capped with a centennial ball created numerous fundraising possibilities throughout the year.
The 2022 event would take on its own look and feel, now being billed as the Centennial Ball. We've played a part in two prior galas, which each year take on a storybook theme. For 2022, though, MWPH wanted to shift from whimsy to elegance while highlighting the century's accomplishments and innovations.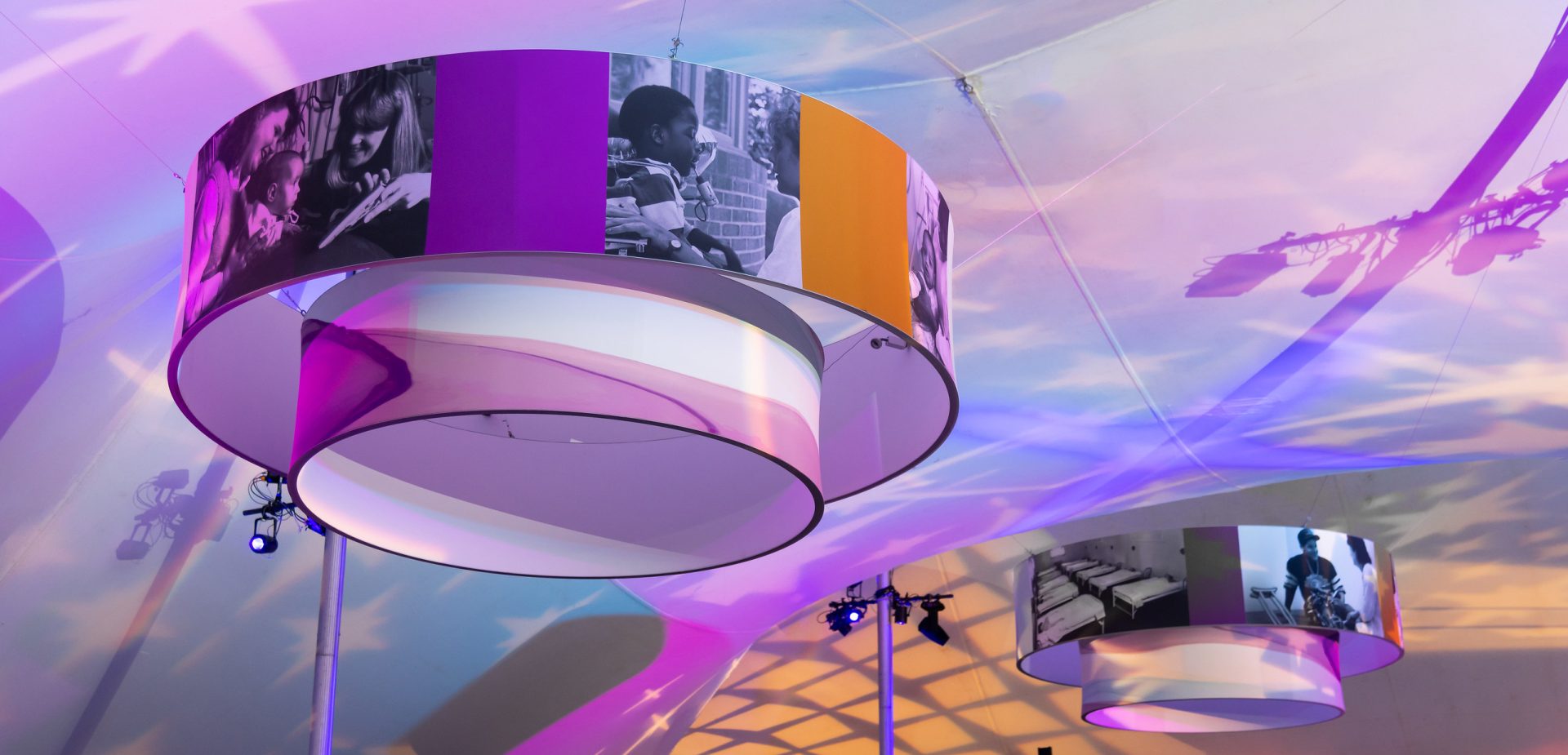 Solution
Start at the Beginning
Knowing that MWPH would be in the spotlight, it was time for a logo refresh that acknowledged the centennial. As part of the refresh, we permanently added "Since 1922."
The refresh provided a foundation for a celebratory event logo to build excitement throughout the year and play into the elegance of the event.

As we moved toward the event date, there were countless moving pieces and intricate collaborations with the MWPH marketing team and the event planners as we set timelines, sourced dozens of decades-old photos, and compiled the personal stories of patients and parents. With words and images, we would bring history alive. This included an event program designed to be a memorable keepsake by including historical facts and timelines, along with photos from across the 100 years. We also collaborated with the event team to incorporate historical imagery throughout the physical space.

Results
A year-long fundraising opportunity
We built a distinct brand identity for an annual tradition in a monumental year. We balanced the heart of MWPH — the children— with the feel of an elegant, black-tie experience that celebrated historic medical achievements and anticipated future possibilities. The Centennial Ball welcomed more than 600 guests, setting the stage for the perfect ending to a year in which MWPH raised more than $17 million. Although our role was modest, we value the opportunity to connect the public to the MWPH brand throughout a milestone year and an unforgettable night.
We were thrilled with how absolutely AMAZING the room looked for our Centennial Ball! Everything Orange Element did was just so captivating, elegant and meaningful, so THANK YOU so so much for everything!