Using a Magazine
to Connect
Physicians
MedStar Health Connect Magazine
Services
Publication Design
Art Direction
Content Management
Print Management
Developing an efficient process to seamlessly aggregate content across hospitals for a physician magazine.
Background
A Magazine to Educate Physicians
MedStar Health sought a new way to reach physicians in the Central Maryland region, educating them about topics and news pertinent to their professional practice and personal health. They reached out to Orange Element for a magazine that could collectively represent three patient care advances: cancer treatment, heart health, and orthopaedics across a network of hospitals throughout Maryland.
Challenge
Coordinating Content Across Departments
Content and approvals came from three medical departments statewide, so organizing and designing content from multiple departments and hospitals would take coordination and strategy. Because writers and contributors worked in different hospitals, it was important to ensure all content remained consistent and aligned with the magazine's goals.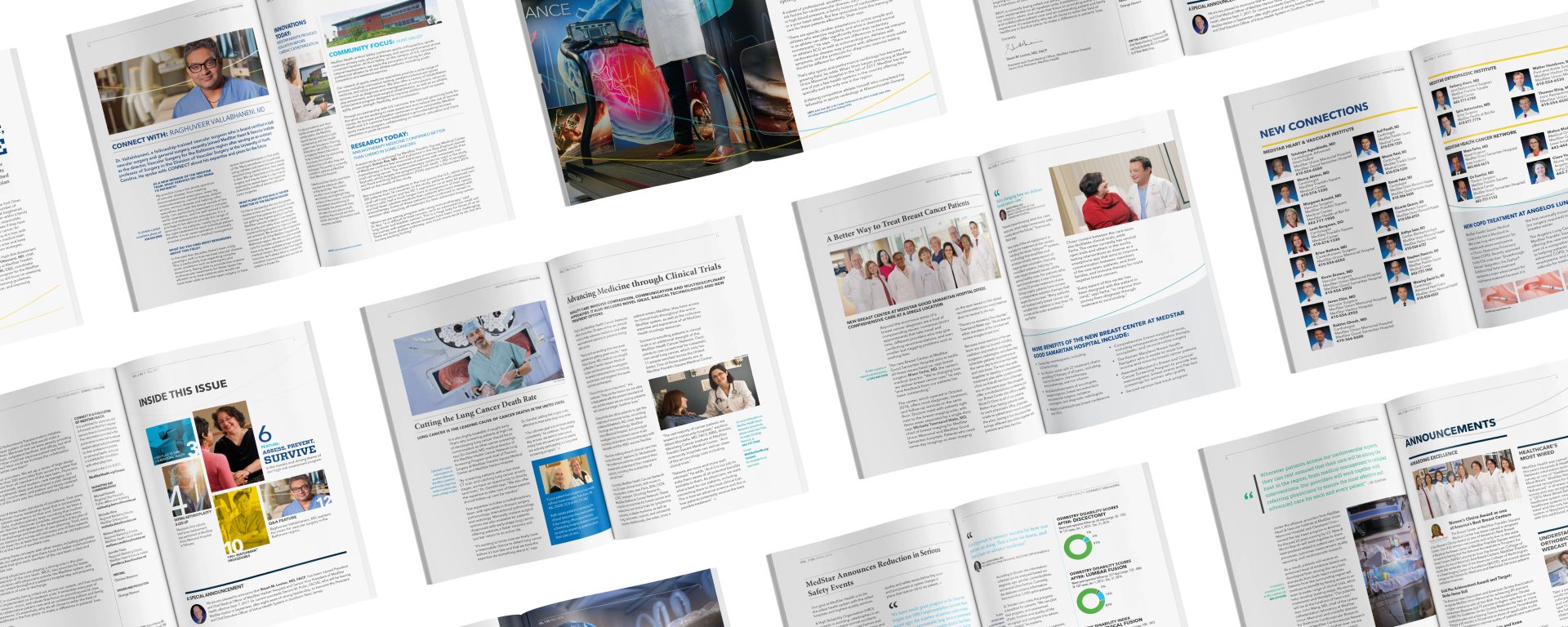 Solution
Developing a Content Curation System
Our team established a publication vocabulary that ensured each member contributing to the magazine understood expectations and deliverables. This vocabulary translated into a working wireframe of each issue. Organized by spreads and story types, our system made it easy to designate articles, cross-reference materials, and assign content to different members of their team—even across statewide departments. With this system, contributors could understand who was responsible for which story and how long each piece needed to be.
Results
A Simplified and Successful Process
Our process continues to simplify the content management process for the MedStar Health team. Because of its efficiency, we've been able to release additional issues of Connect, continuing to connect employees in the large network of MedStar Health facilities.
As of 2020, Orange Element is still engaged with MedStar Health to produce new issues of Connect. Having recently undergone an overhaul to their existing brand system, MedStar Health has asked us to recreate the look and feel of the magazine to better align with the new brand. Stay tuned for a new issue of Connect—and the new design—this summer.