Investing in a Modernized
Web Presence
Grander Capital Partners
Services
Immersion
Web Design
Development
Art Direction
Copy editing
Enhancing the digital presence of a real estate investment firm for stronger brand and business validation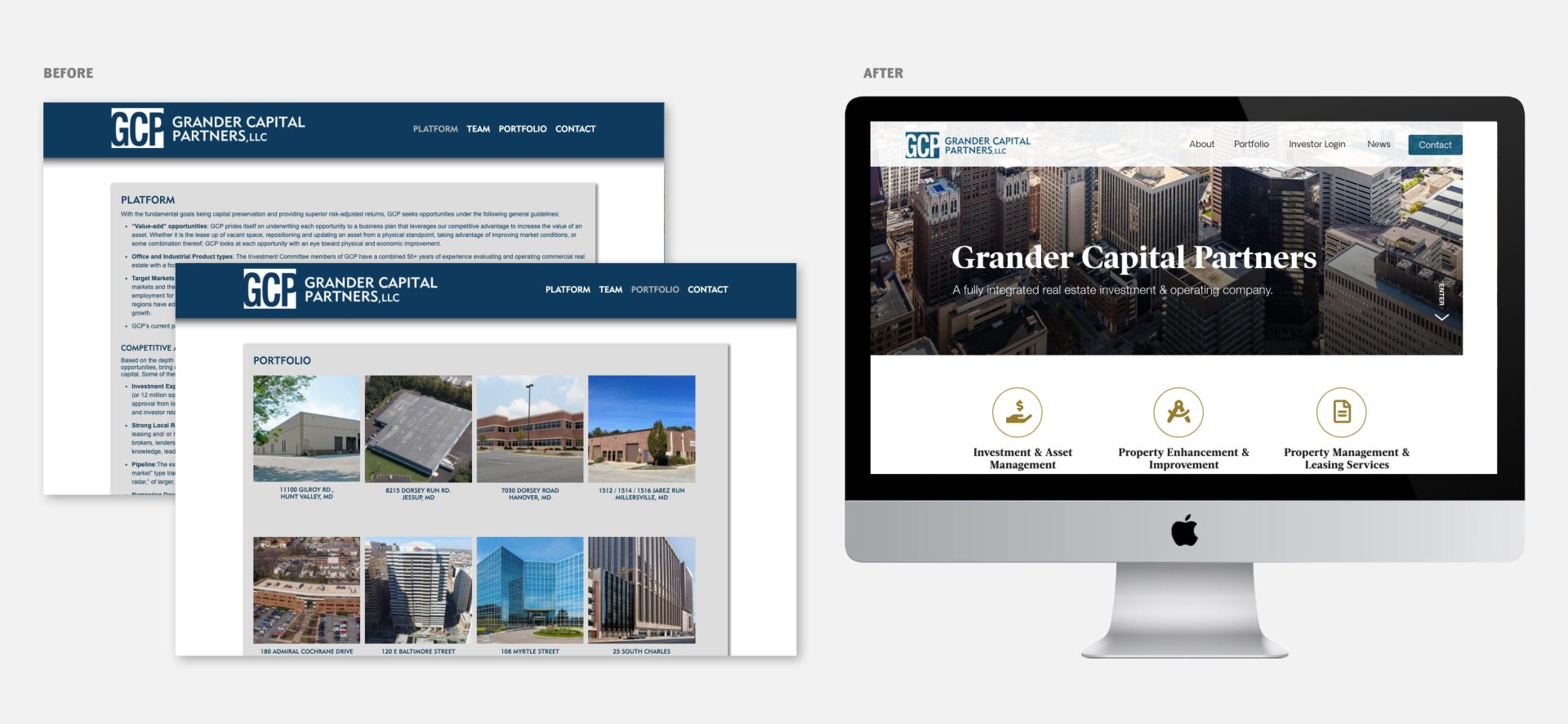 Background
Real Estate Experts
Grander Capital Partners are a fully integrated real estate investment and operating company. Established within the Northeast and Mid-Atlantic regions, they have extensive experience sourcing investment opportunities and bringing innovative solutions that produce returns and minimize risk. And to prove it, they have financed, acquired, leased, and/or managed in excess of $2.5 billion — or 18.5 million square feet — of commercial real estate.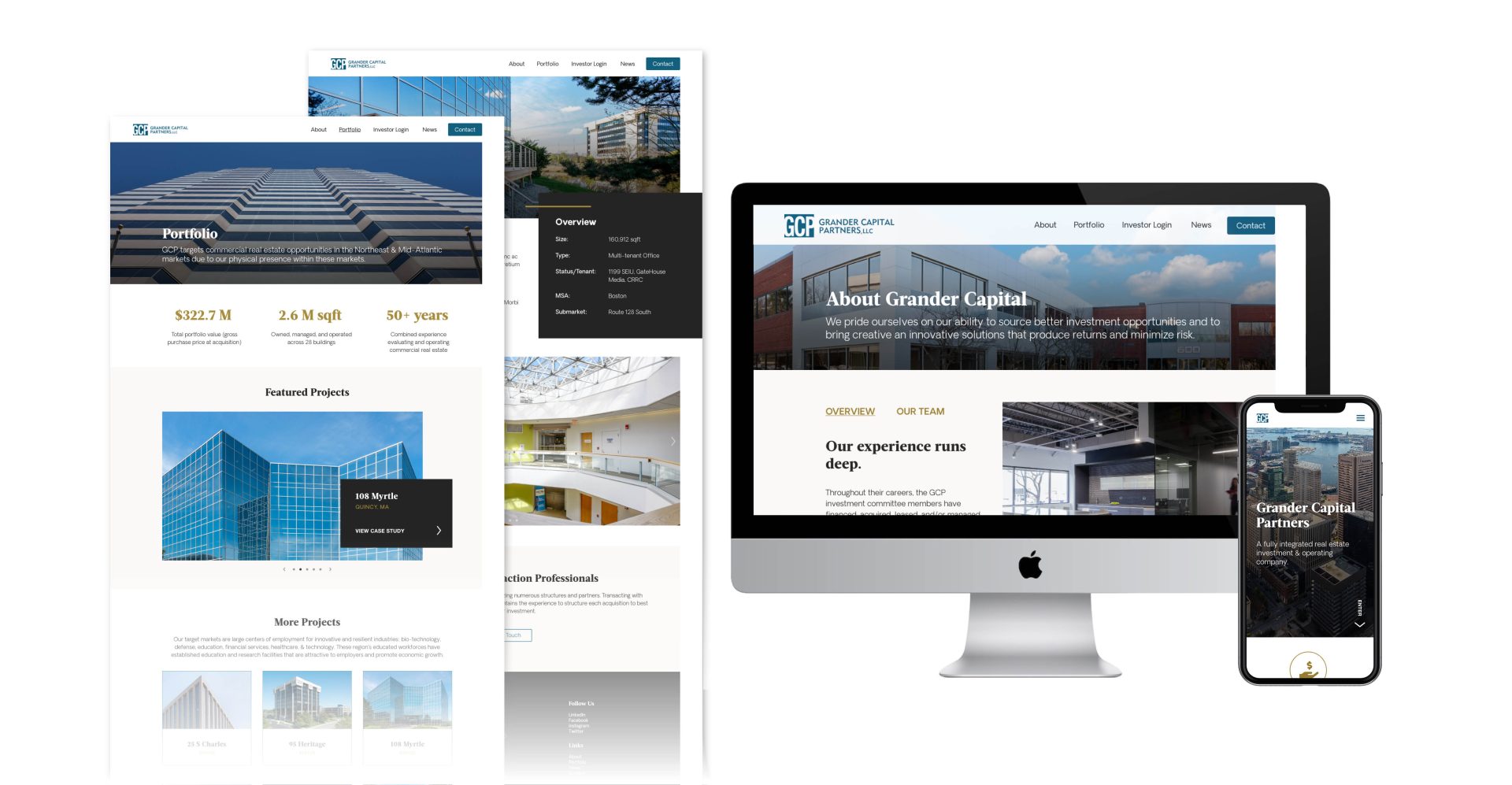 Challenge
Same Expertise, Elevated Aesthetic
While their breadth of experience and market knowledge speak to their skill across areas of acquisition, asset management, and property management, an outdated website made it difficult to adequately showcase their portfolio and abilities. Orange Element was tasked with enhancing Grander Capital Partner's digital presence through a website refresh that supports business validation through showcasing portfolio depth, expert knowledge, and a focus on acquisition, investor relations, and property management. We also aimed to generate more traction and visibility through SEO and a clean, efficient user experience.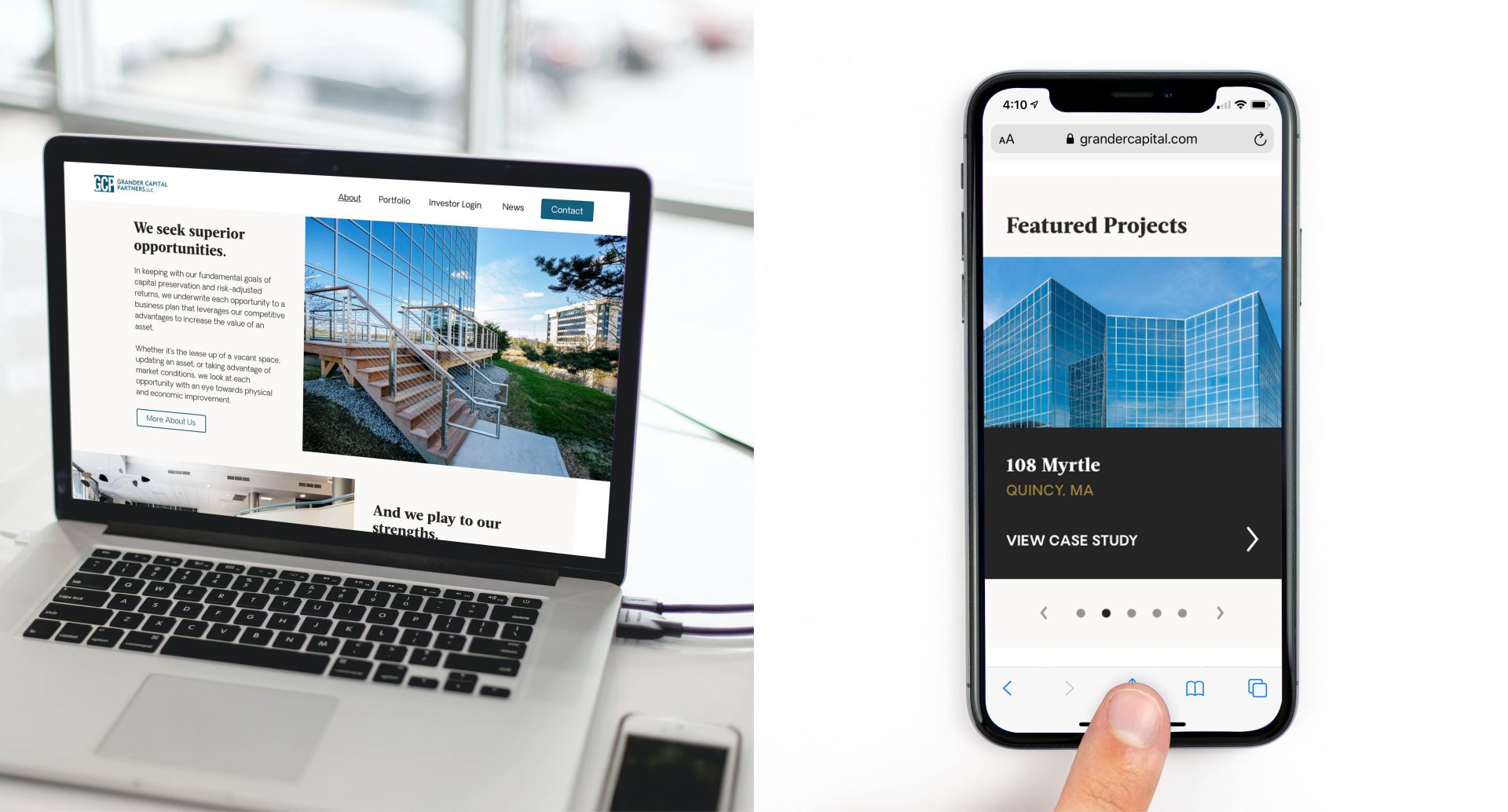 Solution
A Portfolio You Want to Invest In
After conducting immersion interviews and a thorough content audit, we went to work redefining the site structure. This included reworking industry-heavy copy into bite-sized copy blocks across pages supplemented with captivating real estate imagery — keeping all of the important technical information investors need, while making it easier and more pleasant to digest.
Also in the name of enhancing user experience, we used icons and infographic-style call outs to prop up impressive business statistics, and overhauled their portfolio section, optimizing it to showcase impressive photography and call out major tenants and sales.
Finally, we ensured a clear user flow, incorporating calls to action throughout the site that educate potential investors on how they can engage with Grander Capital partners and ultimately driving them to contact their regional representative.
Visit the finished site: https://www.grandercapital.com/
Grander Capital Partners has been a client of Orange Element's for several years now; so when it came time for us to overhaul our website we naturally engaged the talented team at Orange Element to run with the project. The team at Orange Element brought so much creativity and organization to the project which allowed us to focus on our core business throughout the entire process. They embody and embrace the energy of entrepreneurs like us because they are entrepreneurs as well. We could not be happier with the outcome of our website and the relationship with the team at Orange Element.