Instagram and Direct Messaging have taken over the social media game by storm, aggressively stealing attention from the younger generation. Because an estimated 59% of Millennials use this platform, businesses of all sizes are taking advantage of its popularity to increase their personal brand awareness and establish stronger customer relationships. GoPro's user-generated content on their Instagram engages their adventurous audience while selling their products. They recently published a video of one of their sponsored whitewater kayaking athletes. This type of content is the perfect way to cultivate an audience and engage with loyal fans. Check out the post below:
Tesla Motors just surpassed the 2 million-follower mark, posting new videos of the anxiously awaited Model 3.
These high-profile brands are not the only ones acing their Instagram strategy. Small businesses are starting to produce great content for their brands to curate a loyal fan base and engage their followers. Cisco Brewers is a great example of a small business producing phenomenal and interactive content for their customers. Cisco Brewers is a small bar and brewery on the island of Nantucket. This summer they used content to make daily posts, showcasing what a fun time the bar is. They have grown a significant following relatively quickly using this strategy. Below is a great example of this in their recent content.
While posting bold, creative content is important on this photo-sharing platform, there is another feature that's just as important to include in your Instagram business strategy: direct messaging.
What is Direct Messaging?
Direct Messaging allows a user to message brands, businesses, athletes, and celebrities. This message goes directly to the end users account, bypassing typical gatekeepers and roadblocks senders may encounter with emails or other online submissions. This has revolutionized the networking environment for lead generation and collaboration. You can send a personalized message that compliments a specific post ("We love that animated GIF! What was your inspiration?") or a strong call-to-action to achieve a business goal ("We saw you post a lot about logo development. You may enjoy our blog post we just wrote—check it out!") No matter the direction your business decides to take with your messages, it's always important to remain on brand and respectful, as if you were having the conversation face-to-face.
Take a look at the infographic below to see how Direct Messaging is done.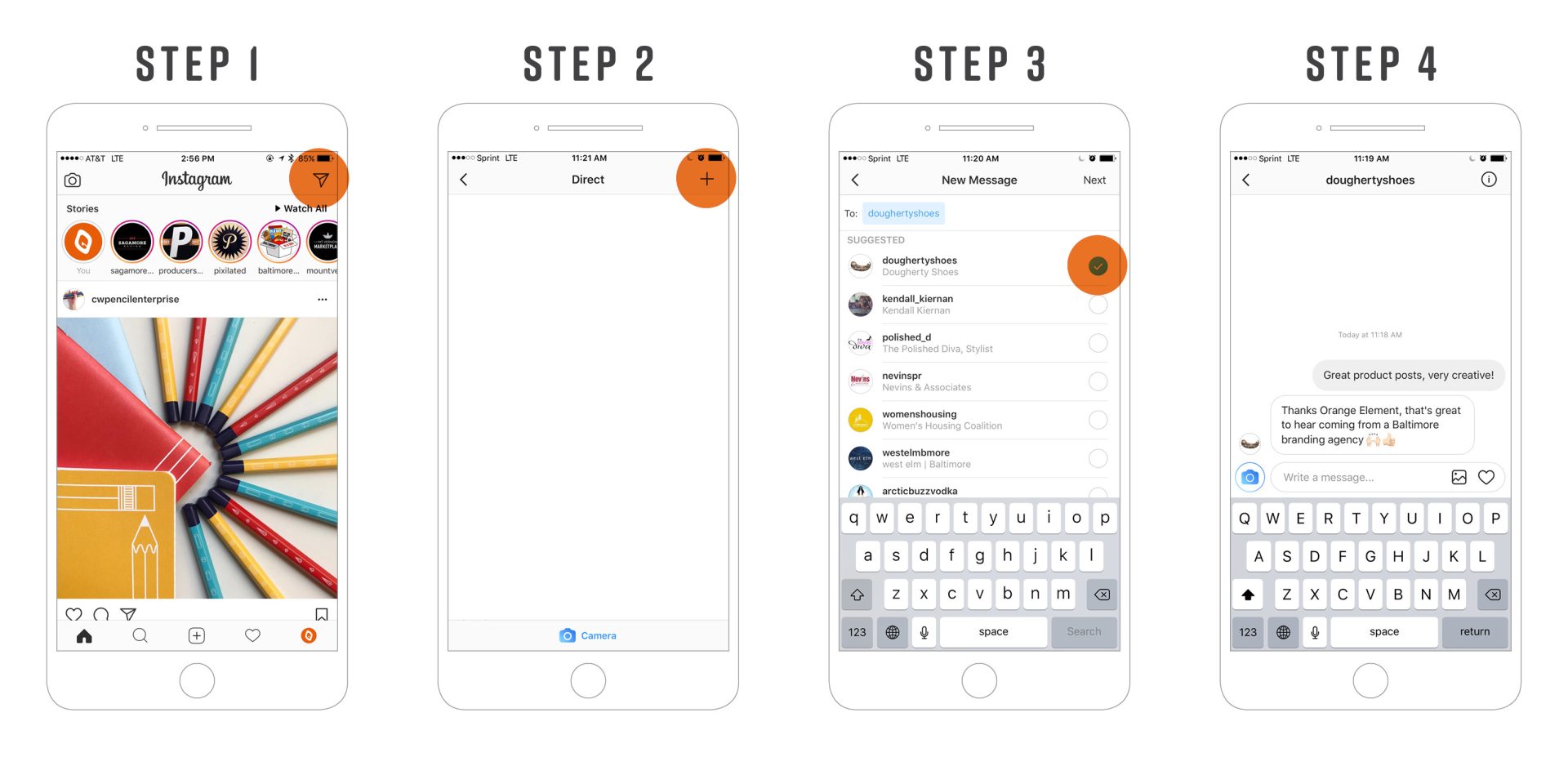 Do you want to learn more about social media? Check out our quick writing tips for social media and more here.