Welcome to our new employee spotlight series! Enjoy getting to know the people behind Orange Element – from their workplace habits to favorite pizza toppings and everything in between.
In celebration of her 5 years at Orange Element, I decided to sit down with our Senior Designer, Kuoting Lian, to learn more about how she came to be at OE.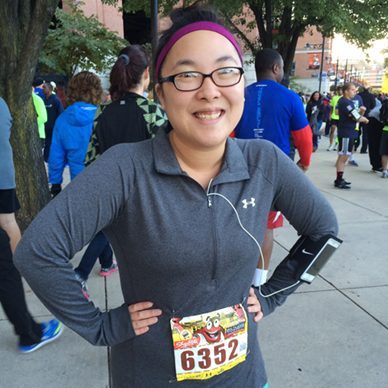 1. What project are you working on now that you are excited about?
I am very excited for this report we are doing for UNICEF and CEI at the moment. I'm also incredibly proud of our Environmental Branding work that we did for AES' new headquarters in Arlington. You can check that project out here.
2. What is your favorite part about your job?
I really enjoy the creative problem solving and collaboration it takes to help meet our clients' needs.
3. What do you love to do, outside of the office?
In my spare time I love to play pool, tennis, and cook. In the last year, I've taken up running and will be running in my first half marathon this October!

4. Where is your go-to place to eat in Baltimore?
Do I have to pick just one?! Asahi Sushi, Kumari's, and Ale Mary's off the top of my head.
5. What is your spirit animal and why?
Panda, because they are calm, wise, adorable, and fluffy — but determined. I really relate to these qualities.