A Website to
Grow the Design
Legislation
Community
AIGA Policy Designed
Services
UI/UX
Website Development
Brand Strategy
Identity
Art Direction
Visual Branding
Developing an ever-growing online resource for all things intersecting design and legislation.
Background
Another Grant to Help Move an Idea Forward
The Baltimore chapter of AIGA received two INNOVATE grants to help propel their ideas forward into reality. The grant, established in 2015, aims to support and empower AIGA members and chapters across the nation. AIGA Baltimore used one of their grants for a project called Policy Designed, which strives to create an online Design Policy Wiki with resources, case studies, and toolkits for those interested in implementing design-focused policy, STEM/STEAM education methods, and building design hubs across the country.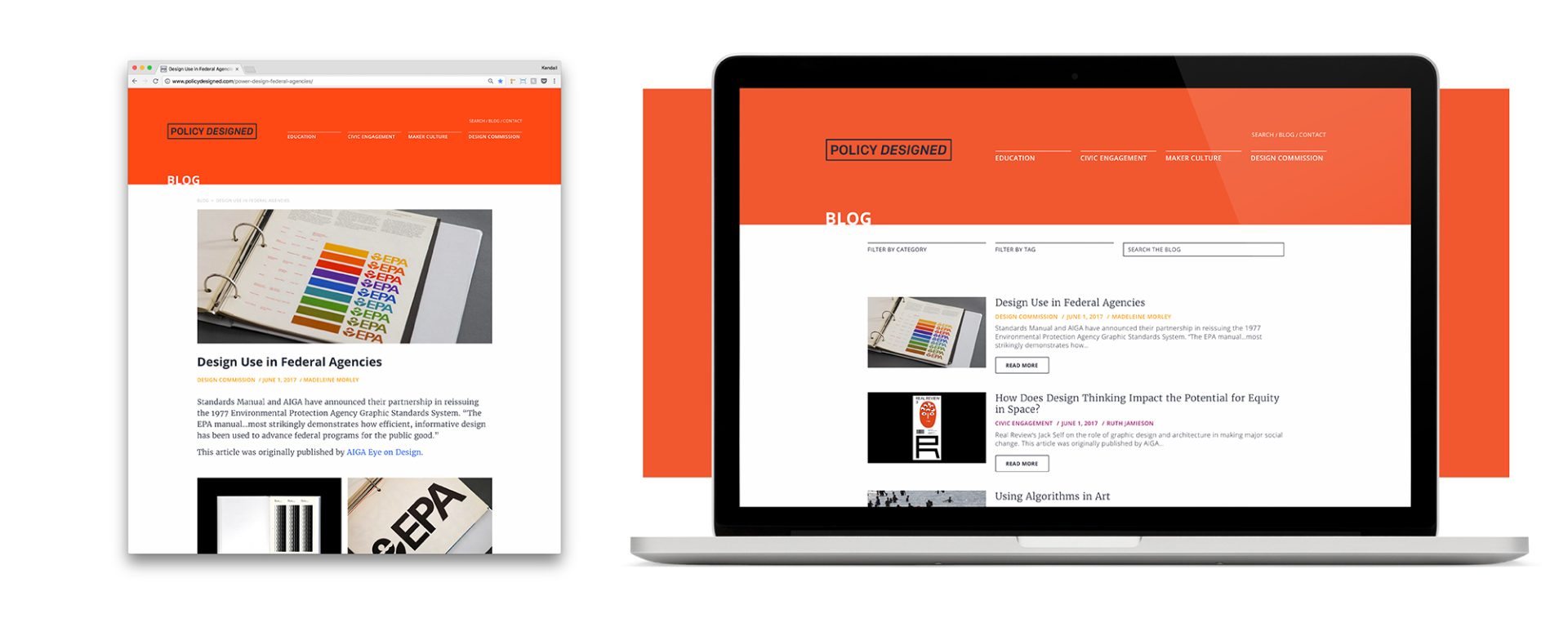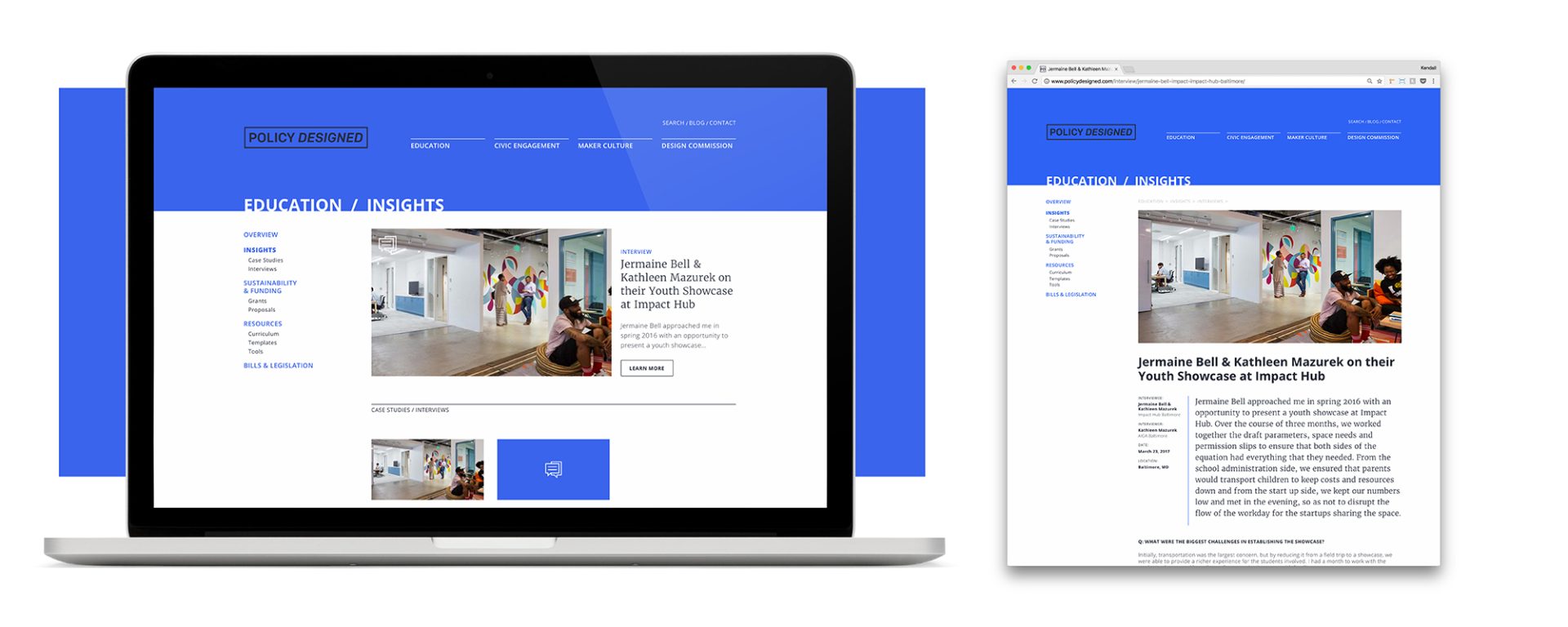 Challenge
Combining Policy and Design
AIGA Baltimore wanted a way to provide interested parties with necessary tools to implement design-centered legislation and STEAM education initiatives. To lessen the communication gap between local design policy and the communities they are meant to serve, the website houses case studies, interviews, proposals, grants, and much more to help individuals and groups looking to achieve similar goals in their communities learn from others' experiences.

Solution
Creating "Glance-able" Content
Policy and legislation can often feel overwhelming, making it difficult to comprehend news and important updates happening in the community. To simplify this, we created a systematic user interface (UI) to ensure the content is digestible and easy to navigate. We built the site to allow flexibility and growth to accommodate frequent updates to content and posts from other communities around the county.
Knowing that contributors would come from varying backgrounds and may not have access to high-quality art assets, we developed a library of icons to represent the types of content showcased throughout the site. A primarily black and white palette is complemented with bright pops of color throughout the sections to add excitement to every topic while making sure not to distract readers.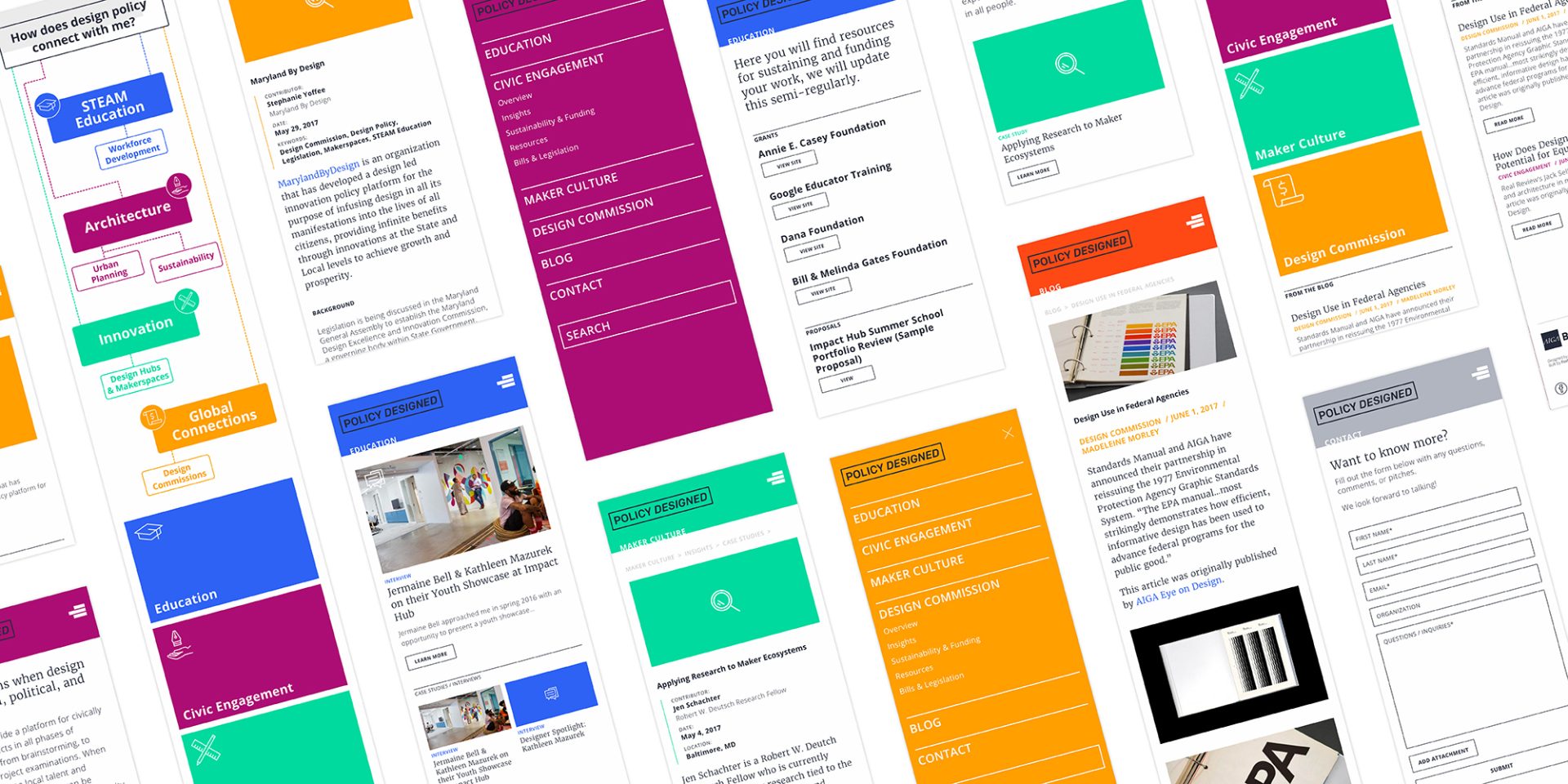 Results
An Exciting Launch
AIGA Baltimore unveiled the site at the national AIGA Leadership Conference and the chapter is excited to see members use this website to spread policy and legislation across the nation. AIGA Baltimore also launched a video in partnership with Stereoscope Studios to promote this content and celebrate their grant wins.