This isn't a trick — we've got some treats for you! From creative costume inspiration to pumpkin kegs, our team reveals their favorite Halloween traditions to help you add some orange flair to your holiday. Bonus: it's our October Font Hour, so stay tuned for some festive Fall fonts!
"If you know anything about me, you know I love my puns. Halloween allows me to go all out with my puns to create great (and very unique) costumes. This year I plan on being 'MaryLAND Monroe.' Imagine the classic blonde, white dress costume with Maryland flag converses and a flag draped over me as a shawl. Scour the internet for your perfect pun costume." – Hannah, Content Developer
"I stumbled upon this blog post of design-y DIY costumes. Definitely some great (and nerdy) ideas here that I'll have to try out some year. In the meantime, you can spot me out and about as a rainbow fairy this year. Or I might default to my comfy panda onesie." – Kuoting, Senior Designer
"When in doubt, a witch is the perfect custom for any lazy designer. We wear black all the time anyway, right?" – Nicolette, Associate Design Director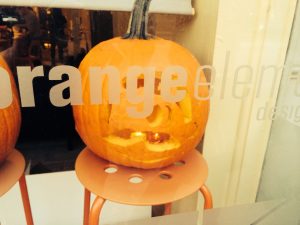 "The only tip/trick I have for the holiday would be making a pumpkin keg! Not only does it look super festive, but who doesn't want to drink beer out of a pumpkin?! That's a treat for sure." – Caitlin, Project Manager
"One year (I won't say when), I tried carving 'Boo' into a pumpkin, but didn't realize the O's would turn out as a huge gaping hole on the side. I learned my lesson and will leave my design skills to the Adobe Suite, not pumpkins." – Kendall, Designer
"Here's a great look at the typefaces used in the classic Universal Monsters films–from The Wolf Man to the Mummy to Frankenstein, they all have an unmistakable, handmade feel that sets the stage for the monster and frights you're about to experience." – Andy, Design Director
Make sure you follow us on Facebook and Instagram to keep up with our October Font Hour submissions and other fall festivities!