Having only been "officially" in the design field for a little over eight months, getting a chance to chat with Andy, OE's Design Director and 10+ year design veteran, was a cool opportunity. We discussed design, past and present trends, along with some non-design related subjects. Below are just a few of the topics we covered. Enjoy!
Kendall: I recently adopted a 3-month-old pit bull puppy so as soon as I get home, the rest of my evening is devoted to him. What's the very first thing you do when you get home from work everyday?
Andy: I usually kick off my shoes and turn on the stove to make dinner. I've always loved to cook, so it's a nice way to relax. After a long day, it's something to look forward to!
Kendall: Besides design and cooking, what's one of your favorite things to do?
Andy: One of my favorite things is to simply be outdoors. Especially spending a good portion of my days in an office, being outside in the fresh air either for a walk, exploring something new, or being active is refreshing. I'm a golfer, so in the warmer months I love getting out to the course or the range for practice.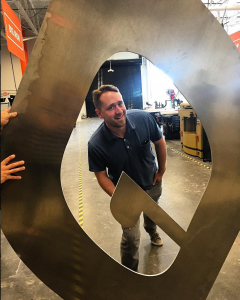 Kendall: Since you are so in-tune with nature, what keeps you living here in Baltimore?
Andy: Baltimore has a great energy and character. There are always interesting events going on, not to mention museums, restaurants and endless places to explore. While I love getting out of the city, it's cool to be surrounded by all of that on a daily basis.
Kendall: I knew I wanted to be a designer in high school when I realized the only subject that kept my attention in school was art. When did you know you wanted to be a designer?
Andy: In high school, I first learned what Graphic Design was, and started to discover an outlet for my creativity in design. I had always been interested in art up until that point, but when I saw the many applications of design and all of the areas it touched in everyday life, I knew that's where I wanted to be.
Kendall: If you could have any job that is not at all related to the design field, what would it be?
Andy: Building guitars. Working with my hands to create instruments, tools of musical expression, with an artist and craftsman's touch would be very fulfilling. It's something I have explored as a hobby, building and finishing my own '59 Fender Strat replica from scratch using new and vintage parts, and period-correct build and finishes.
Kendall: What was a popular design trend that you were all about when you were my age?
Andy: Probably a toss-up between using the Gotham typeface for almost everything, and figuring out how to code and design custom Myspace pages. I've come a long way since then!
Kendall: (Side note: The resume I submitted when applying to OE was totally type-set in Gotham…)
Kendall: Do you remember what your first project was at Orange Element?
Andy: My first project at OE was creating Matthew Girard's (DC Photographer) portfolio kit. I got to sift through hundreds of photos, from celebrities to the Coney Island Freak Show, to create a cool self-promo piece that could be mailed or handed out. I got to experience everything from client meetings to design, production, and press checks—even a trip up to Coney Island.
Kendall: My favorite thing about my job is the large variety of work that I get to do on a daily basis. What's your favorite thing about your job?
Andy: Every day I walk into work is a new challenge. I'm constantly learning about new things, new industries, meeting new people, and helping people solve problems with creativity. This job has taken me some fantastic places over the years and I'm very thankful for that.
Want to learn more about the Orange Element team? Explore our culture page and sign up for our quarterly newsletter here.